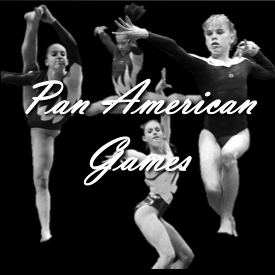 The Pan American Games (also known colloquially as the Pan Am Games) constitute a major event in the Americas featuring summer and formerly winter sports, in which thousands of athletes participate in a variety of competitions. The Pan American Games are the second largest multi-sport event after the Summer Olympics. The competition is held between athletes from nations of the Americas, held every four years in the year before the Summer Olympic Games. The competition was first held in 1951 in Buenos Aires, Argentina. Women's artistic gymnastics joined the program in 1963.
Pages in category "Pan American Games"
The following 15 pages are in this category, out of 15 total.
Ad blocker interference detected!
Wikia is a free-to-use site that makes money from advertising. We have a modified experience for viewers using ad blockers

Wikia is not accessible if you've made further modifications. Remove the custom ad blocker rule(s) and the page will load as expected.