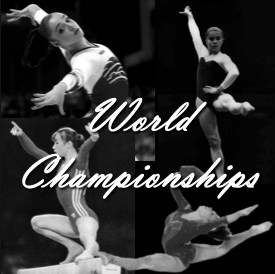 The World Artistic Gymnastics Championships are the World Championships for artistic gymnastics. They have been held since 1903. The women's team final and the individual all-around were first held at the 1934 Worlds in Budapest, the event finals were first held at the 1938 Worlds in Prague. Since then, there have been certain years were only certain events were held. In 1994, the team final was held in a separate competition from the all-around and individual event finals. In 1992, 1996, and 2002, only the event finals were held. In 2005 and 2009, only the all-around and event finals were held.
For a while, the World Championships were held every four years, staggered with the Olympics. Starting in 1979, they were held every two years. Starting in 1991, they were held every year. After 1999, they were held every year, except for the year of the Olympics.
Pages in category "World Championships"
The following 40 pages are in this category, out of 40 total.
Ad blocker interference detected!
Wikia is a free-to-use site that makes money from advertising. We have a modified experience for viewers using ad blockers

Wikia is not accessible if you've made further modifications. Remove the custom ad blocker rule(s) and the page will load as expected.