Welcome to Gymnastics Wikia. This wikia focuses solely on women's artistic gymnastics (or WAG). It includes articles on Olympic and World Champions dating as far back as 1928. This wikia is kept up-to-date with ongoing national and international competitions.
This wikia is mostly for elite gymnastics. For information on the USA's JO program, click here.
Congratulations to the Olympic medalists!
This Month's Competitions
Featured Gymnast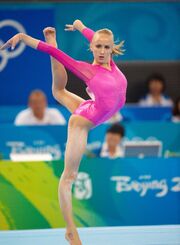 Anastasia "Nastia" Valeryevna Lyukina
(Russian: Анастасия "Настя" Валерьевна Люкина; born October 30, 1989) is a retired American artistic gymnast. She is the 2008 Olympic individual all-around Champion, the 2005 and 2007 World Champion on the balance beam, and the 2005 World Champion on the uneven bars. With nine World Championships medals, seven of them individual, Liukin is tied with Shannon Miller for the third-highest tally of World Championship medals. Liukin has also tied Miller's record as the American gymnast having won the most medals in a single non-boycotted Olympic Games.
Liukin became a member of the U.S. junior national team when she was 12 years old and won the National all-around title at the age of 13. She was the all-around silver medalist at the 2003 Pan American Games. Since 2005, Liukin has been a key member of the U.S. senior team. She is a four-time all-around U.S. National Champion, winning twice as a junior and twice as a senior. She has been the U.S. senior National Champion on the uneven bars since 2005. Liukin has represented the United States at three World Championships, the 2003 and 2007 Pan American Games, and the 2006 and 2008 Pacific Rim Championships. In October 2011, Liukin announced that she was returning to the sport of gymnastics with the hopes of making the 2012 Olympic team. After an unsuccessful National Championships and Olympic Trials, she retired from the sport. read more...
Featured Vault
Maria Paseka - RUS - 2015 European Championships - EF
Featured Uneven Bars Routine
Becky Downie - GBR - 2014 European Championships - EF
Featured Balance Beam Routine
Sanne Wevers - NED - 2016 IAG SportEvent
Featured Floor Exercise Routine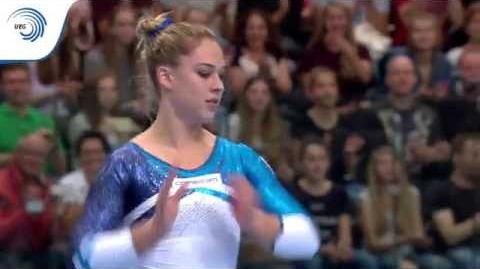 Giulia Steingruber - SUI - 2016 Euros - EF
Helping out
To write a new article, just enter the title in the box below
Latest activity
Poll
Who's most likely to win the all-around at the 2016 Olympics?
This Month's Birthdays
Twitter
Blog Posts
Create blog post
Latest Blog Posts
Stuck in a far off time zone? Don't know what time to wake up at night to watch the women live? I got you covered, not only with times for each compe…

Read more >
See more >
Forum
Weekly Update 7/25
July 25, 2016 by
Candycoateddoom
*Results for the Chemnitz Friendly are available. **Congratulations to Giulia Steingruber for winning the all-around at the Chemn...
---
Weekly Update 8/1
August 1, 2016 by
Candycoateddoom
*Elena Arenas has verbally committed to LSU. *Russian alternate Natalia Kapitonova is not eligible for competition in Rio due to not having b...
---
Weekly Update 8/29
August 29, 2016 by
Candycoateddoom
*Dipa Karmakar is shooting for Tokyo. *Deanne Soza has verbally committed to the University of Utah. Her Instagram profile also confirms that ...
---