Welcome to Gymnastics Wikia. This wikia focuses solely on women's artistic gymnastics (or WAG). It includes articles on Olympic and World Champions dating as far back as 1928. This wikia is kept up-to-date with ongoing national and international competitions.
This wikia is mostly for elite gymnastics. For information on the USA's JO program, click here.
Congratulations to the Olympic medalists!
This Month's Competitions
Featured Gymnast
Vlasta Děkanová
(September 5, 1909 – October 16, 1974) was a Czechoslovak/Czech gymnast two-time World All-Around Gymnastics Champion who also competed in the 1936 Berlin Olympics.
At the 1936 Berlin Olympics, she helped her Czechoslovakian team to the silver, this being her only Olympic medal due to the world wars and the lack of recognition of women for individual medals at the Olympic games until the 1952 Helsinki Olympics.
She also was two-time World All-Around Champion at successive World Gymnastics Championships (1934 and 1938), as well as Balance Beam Champion at the latter (some sources conflict as to what other events she won - vault and/or uneven/parallel bars) where women's individual event medals were first awarded. This makes her the most decorated woman gymnast at the worldwide level before the introduction of the women's full program (where women could compete, for the first time, for individual medals and not just team medals) into the Olympics, which occurred in 1952. read more...
Featured Vault
Mattie Larson - USA - 2010 U.S. National Championships - Day 2
Featured Uneven Bars Routine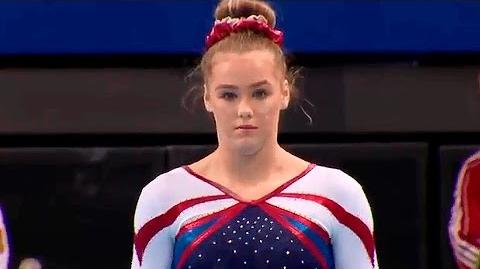 Rebecca Tunney - GBR - 2016 Stuttgart World Cup
Featured Balance Beam Routine
Aliya Mustafina - RUS - 2016 European Championships - EF
Featured Floor Exercise Routine
Ludivine Furnon - FRA - 2000 European Championships - EF
Helping out
To write a new article, just enter the title in the box below
Latest activity
Poll
Who was your favorite gymnast at the 2016 Olympics?
This Month's Birthdays
Twitter
Blog Posts
Create blog post
Latest Blog Posts
Stuck in a far off time zone? Don't know what time to wake up at night to watch the women live? I got you covered, not only with times for each compe…

Read more >
See more >
Forum
Weekly Update 9/5
September 5, 2016 by
Candycoateddoom
*Simone Biles' coach Aimee Boorman has left to coach at EVO Athletics in Sarasota, Florida with her husband. *Marine Brevet has retired f...
---
Weekly Update 9/12
September 12, 2016 by
Candycoateddoom
*Results for the UK School Games are available. **Congratulations to Latalia Bevan for winning the all-around at the UK School Games! *Aly Rais...
---
Weekly Update 9/19
September 19, 2016 by
Candycoateddoom
*Vanessa Ferrari will have surgery on her tendon and then decide whether to keep training. *The RGF voted to hold next year's Russ...
---