This wikia focuses solely on women's artistic gymnastics (or WAG). It includes articles on Olympic and World Champions dating as far back as 1928. This wikia is kept up-to-date with ongoing national and international competitions.
This wikia is mostly for elite gymnastics. For information on the USA's JO program, click here.
This Month's Competitions
MUST WATCH VIDEO
Featured Gymnast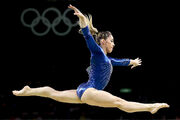 Daniele Matias Hypólito
(born September 8, 1984) is a Brazilian gymnast who competed in the 2000, 2004, 2008, 2012, and 2016 Summer Olympics. Hypólito was the first athlete from Brazil ever to win a medal at the World Championships, a silver on floor exercise in 2001. She is also the thirteen-time senior all-around Brazilian National Champion in artistic gymnastics, 2002 South American Games all-around champion and 2003 Pan American Games all-around bronze medalist. To date Hypólito has represented Brazil at the World Championships twelve times, competing in every Worlds meet from 1999 to 2014, as well as the 1999, 2003 and 2007 Pan American Games.
Hypólito was born in Santo André, São Paulo to parents Wagner and Geni. Her younger brother, Diego, is also a world-class gymnast. In 2005, he became the first male Brazilian gymnast to win a World Championships medal, earning gold on the floor exercise, and went on to win silver on floor at the 2016 Olympics. read more...
Featured Vault
Alicia Sacramone - USA - 2008 U.S. National Championships - Day 1
Featured Uneven Bars Routine
Anastasia Grishina - RUS - 2012 European Championships - TF
Featured Balance Beam Routine
Wang Cenyu - CHN - 2017 Cottbus World Cup - EF
Featured Floor Exercise Routine
Carlotta Ferlito - ITA - 2016 American Cup
Helping out
To write a new article, just enter the title in the box below
Latest activity
Poll
Who was your favorite gymnast of 2018?
This Month's Birthdays
Twitter
Blog Posts
Create blog post
Latest Blog Posts
This post contains official team selections for Worlds, and will be updated as more teams are confirmed or, God forbid, changes are made due to injur…

Read more >
See more >
Forum

Weekly Update 12/31
December 31, 2018 by
Candycoateddoom
USAG SCANDAL ROUND-UP: *Indiana's Attorney General has been investigating USAG for almost a year. The AG says that USAG's standards for handling abuse are too low for the law. *Michigan's Attorney Gen...
---

Weekly Update 1/7
January 7, 2019 by
Candycoateddoom
USAG SCANDAL ROUND-UP: *Former head coach of the U.S. national tumbling team, Sergio Galvez, has been forced to resign following accusations of sexual misconduct. *Olympians are calling for Congress t...
---

Weekly Update 1/14
January 14, 2019 by
Candycoateddoom
USAG SCANDAL ROUND-UP: *Deadspin has an article about how gymnasts should form a union. *USAG tweeted that Don MacPherson is being investigated by SafeSport and is currently on USAG's suspended member...
---