Maëlys Plessis

Plessis at the 2012 Junior European Championships

Country represented

France

Born

October 15 1997 (1997-10-15) (age 20)

Club

Avant Garde du Mans

Coach(es)

Marie-Angéline Colson, Julien Kerninon

Current status

Retired
Maëlys Plessis (born October 15, 1997) is a retired elite artistic gymnast from France. She trained at Pole France-Saint-Etienne, where she was coached by 1992 Olympian Marie-Angéline Colson and Julien Kerninon. Her best event was balance beam.
Junior Career
Elbow pain kept her out of the competition scene for much of 2011, but she came back strong and made international appearances in late 2011 and in 2012 , notably at Massilia (Marseille) and at Gymnix (Montreal) where she qualified for two finals—beam and floor. At the 2012 Junior European Championships last June in Brussels, she was the fifth qualifier at the beam (but ended up placing seventh after a couple of wobbles in the finals).
She also competed with Junior Team France at the 2012 France-Romania match in France and at the 2012 France-Germany-Switzerland-Great Britain match, where her team took the gold.
Nationally, Plessis was France's 2012 individual Junior champion at its annual elite competition last June in Nantes. She competed at the 2012 Élite Gym Massilia in November, where her team second on uneven bars and floor exercise in the team all-around.
Senior Career
Plessis' senior debut came in 2013, at the French Nationals, where she won bronze in the all-around, and placed fourth on bars, fifth on floor, and eighth with her team. At the Mediterranean Games in June, she won a team silver medal.
In April 2014, she competed at the French Nationals placing twelfth with her team. That June, she competed at the Gym Festival Trnava in Slovakia, winning balance beam and floor exercise silver, and placing fourth in the all-around and on uneven bars. She was named to the French team for the World Championships, but was later sidelined with an injury.[1] She retired from gymnastics in June 2015.[2]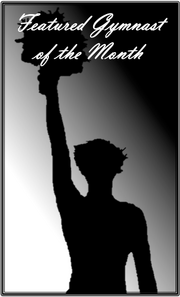 Medal Count
Floor Music
2014 - "On the Lake" by Shigeru Umebayashi
References
Ad blocker interference detected!
Wikia is a free-to-use site that makes money from advertising. We have a modified experience for viewers using ad blockers

Wikia is not accessible if you've made further modifications. Remove the custom ad blocker rule(s) and the page will load as expected.