Kim Janas

Janas at the 2013 Leverkusen Cup

Country represented

Germany

Born

December 3 1999 (1999-12-03) (age 18)

Club

SV Halle

Coach(es)

Katrin Kaltenborn

Current status

Retired
Kim Janas (born December 3, 1999) is a retired elite German gymnast. She lived in Halle, Germany and trained under Katrin Kaltenborn at SV Halle. She is known for her creative and artistic floor routine.
Junior Career
2012
Janas made her international debut in 2012. She competed at a friendly meet between FRA-ITA-SUI-GER in June where she came second with the team and placed first in the all-around. She also competed at the Dityatin Cup, where she placed first on floor, and second in the all-around and on vault.
2013-2014
In April, Janas won the Pre-Olympic Youth Cup in Bergisch-Gladbach. In July, Janas competed at the European Youth Olympic Festival. In the all-around, she tied for gold with Russia's Maria Kharenkova, but a tie-breaker was induced and Kharenkova was awarded the gold. Janas also placed sixth with the German team, fouth on vault, fifth on beam, and won another silver on floor exercise. In September, Janas competed at the Japan Junior International, placing fourth on vault, fifth on floor, and ninth in the all-around. In October, she competed at the Leverkusen Cup, winning four gold medals (team, all-around, vault, balance beam, and floor exercise) and placing sixteenth on uneven bars.
In late October, she was named to the German team for the Élite Gym Massilia in November. However, she sustained an ACL tear during training a few weeks later and was withdrawn from the roster. She had surgery in late November and was out for a year.[1][2] She returned to competition at the Bundesliga competition in November 2014, where she only competed on uneven bars.
Senior Career
2015-2016
Janas' senior debut came at the Austrian Team Open, where she only competed on three events and won a team bronze medal. She went on to win silver on balance beam at the Cottbus World Cup. She was sent to the European Championships, but sustained an injury on balance beam in qualifications and did not compete on uneven bars. The injury was later confirmed to be another ACL tear.[3] Her recovery was going well and she was set to compete again in April, but she suffered a dislocated elbow and torn ligaments at a training camp.[4]
Janas recovered in time to compete at the Cottbus World Cup in November, but re-injured her knee on her uneven bars dismount and withdrew from the competition.[5] Her injury was diagnosed as a partially ruptured ACL, causing her to subsequently retire.[6]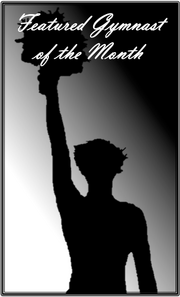 Medal Count
Floor Music
2011 - "Fairytale" by Alexander Rybak
2013 - "Moon Trance" by Lindsey Stirling
References