Natalia Shaposhnikova

Shaposhnikova at the 1980 Olympic Games

Full name

Natalia Vitalyevna Shaposhnikova

Country represented

USSR

Born

June 24 1961 (1961-06-24) (age 56)
Rostov on Don, Rostov Oblast, Russian SFSR, USSR

Club

Dynamo

Coach(es)

Vladislav Rastorotsky

Current status

Retired
Natalia Vitalyevna Shaposhnikova (Russian: Наталья Витальевна Шапошникова), (born June 24, 1961), married name Natalia Sout, was a Soviet gymnast, two-time Olympic Champion, Honoured Master of Sports of the USSR. She was born in Rostov on Don, Russian SFSR. She was known for her risky and original skills along with her expressive choreography, especially on beam and floor.
Career
Shaposhnikova trained in Dynamo, Rostov on Don. Her trainer was the Honoured Trainer of the USSR Vladislav Rastorotsky, who had also trained her famous compatriots Ludmilla Tourischeva and Natalia Yurchenko. Shaposhnikova was one of the world's strongest gymnasts in the late 1970s and early 1980s, especially in the Vault Event. She was well known for her difficulty and originality especially her one armed hand stand balances on beam, among this difficulty was one of the first triple twists in her 1979 European Championships floor routine and her Olympic games opening passage on floor, round-off 1.5 twisting layout immediately into a round off backhand spring double pike back. At the 1980 summer Olympic games in Moscow she contributed greatly to her teams gold medal and took home an individual gold medal in the vault apparatus. She also took home a bronze medal on both floor and beam and came .05 from a silver medal shared with Nadia Comaneci and Maxi Gnauck in the all around.
Shaposhnikova invented a complex low-to-high bar transition element on the uneven bars; the skill is named after her in the Code of Points. The skill, sometimes referred to colloquially as the "Shaposh," is still widely performed today, it is credited as a D value element under the new Code of Points. During the 1990s, other gymnasts began to developed variations of the Shaposhnikova, these include Americans Kristen Maloney who had a toe-on swing before the transition to the high bar, and Amy Chow who performed a stalder circle entry before making the transition. Another variation on the skill is by three-time World All-around champion Svetlana Khorkina who would include a half turn during the transition between the bars.
After retiring from the sport, Shaposhnikova and her husband Pavel Sout currently coach at Gymnastika in Woodland Park, New Jersey. According to the Gymnastika website, Pavel was a Gold Medalist at the 1981 World Championships. As a member of the Soviet Mens Team, he participated in many national and international competitions. Pavel was the head coach of the 1st place Soviet National Team at the 1991 World University Games. He was educated at the Sports College in Russia and the Moscow Sports Academy. Pavel is the Head Coach of the Girls Program at Gymnastika.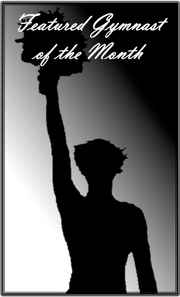 Medal Count
Floor Music
1977-1979 - "Espana Cani" by Pascual Marquina and "Les Toreadors" from Carmen by Bizet
Ad blocker interference detected!
Wikia is a free-to-use site that makes money from advertising. We have a modified experience for viewers using ad blockers

Wikia is not accessible if you've made further modifications. Remove the custom ad blocker rule(s) and the page will load as expected.