Shang Chunsong
Comments

0
1,618pages on
this wiki
Shang Chunsong

Shang at the 2013 Chinese National Games

Country represented

China

Born

March 18, 1996 (age 18)
Zhangjiajie, Hunan, China

Coach(es)

Xiong Jingbin, Zhang Xia

Current status

Active
Shang Chunsong (Chinese: 商春松, pinyin: Shāng Chūnsōng, born March 18, 1996) is a senior elite Chinese gymnast from Hunan.
Senior Career
2012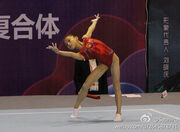 Shang's senior debut came in 2012. She competed with the Chinese team at the Pacific Rim Championships, winning silver with the team. She also placed fourth on bars and beam, and fifth in the all-around.
She was later named to the Chinese team for the Asian Championships. She won gold on balance beam and floor exercise, gold with the Chinese team, and bronze in the all-around. She also competed at the Chinese Individual Nationals, winning bronze in the all-around and gold on floor.
2013
Shang made her 2013 debut at the Tokyo World Cup, where she placed fourth in the all-around, first on balance beam, and second on floor exercise. The following May, she won bronze with her team, silver in the all-around, and gold on beam and floor at the Chinese Nationals. In June, she competed at the Anadia World Cup, winning bronze on uneven bars (after a fall) and floor exercise and silver on balance beam.
In September, she competed at the Chinese National Games, winning bronze with her team and on balance beam, and gold in the all-around (tied with Yao Jinnan), and on bars and floor. She was named to the Chinese team for the World Championships soon after.
In qualifications, Shang competed in the third subdivision. She qualified sixth to the all-around and second to the balance beam final. Prior to the competition, Shang submitted a new skill to the FIG: a piked Hindorff on uneven bars, which was added to the Code of Points and named after her after qualifications. In the all-around, she fell on balance beam and finished eighth. In the balance beam final, she performed fourth. She hit a solid routine to score 14.133. She finished sixth.
After the World Championships, Shang was selected to compete at the Arthur Gander Memorial in late October and Swiss Cup in early November. She placed sixth in the all-around at the Gander Memorial, but did not make the semi-finals at the Swiss Cup.
2014
At the Chinese Nationals in May, she won beam and floor gold, all-around and uneven bars silver, and team bronze.
Medal Count
Floor Music
2014 - "Gopala" by Mani Sharma